Customer Reviews
11/30/2019
Kate B.
United States
Love this Product
I am a fitness instructor and I wear my Ring Hero everyday!! Otherwise, I'd always have to leave my rings at home. It's so simple but a game changer for my everyday since I got engaged and soon will be adding another ring :)
11/25/2019
Anonymous
United States
Sooo great
I haven't tested it out yet with a workout but I'm so so pleased with the product and the fit. I have been searching for something like this since I got engaged and I'm so happy to have found RingHero
11/17/2019
Anonymous
United States
Great purchase
Use my ring hero all the time!
11/09/2019
Anonymous
United States
Ring hero
Tons of compliments!! Love!!
11/07/2019
Anonymous
United States
Anxiety Reliever!
I used to hate leaving my ring in a locker away from me, so I feel 10x better now knowing it's safe right on my wrist!
11/03/2019
Anonymous
United States
Great product!
I purchased this item to keep my ring safe and close when I went to workout classes and that's exactly what it does. Great product and very comfortable to wear. I would definitely recommend!
11/01/2019
Anonymous
United States
Really enjoy using this while
Really enjoy using this while lifting weight as my ring is 18k gold, and I don't want to scratch it. It's a little bit tight, but otherwise, it's a great idea and very comfortable / soft!
10/31/2019
Anonymous
Switzerland
Perfect for when I'm at bootcamp
I take a Barry's Bootcamp style class where I live in Zurich, and the ring hero has been the perfect companion I need. I love knowing my ring is safe and sound and with me, but isn't on my finger being damaged by weight lifting when I'm working out!
10/17/2019
Anonymous
United States
Great!
Such a great gift!
09/26/2019
Ashley G.
United States
So convienent when I'm at the gym or working at the bar
I work as a waitress at a bar in nyc and I didn't want to wear my ring and get it scratched or grimy and I didn't want to leave it in the back of the restaurant where I couldn't have my eye on it. So ring hero was perfect for me to keep it on me and I can see it at all times! I also bought a 2nd one to use for the gym and it's very handy and I feel more secure when I have it on me. My only complaint would be that it's a little difficult to get my ring out of the zipper pocket , but once I take ring hero off and open the zipper it's easier than when I try to do it on my wrist, but still a little bit of maneuvering required.
09/25/2019
Anonymous
United States
Absolutely perfect!
Ring hero has been a total life saver for me! I would always forget to leave my jewellery at home when I went to the gym, and I hate leaving it in the car or in my bag. I keep my ring hero with my sports bras so I grab it any time I go to work out, and then I just throw it in the wash with my gym clothes. It's seriously so helpful! Saves my peace of mind and keeps my rings from getting damaged.
09/11/2019
Anonymous
United States
Great Product!
Love my ring hero - super comfortable and fits securely! My trainer is spreading the word to all of his other clients who make him hold their rings for them!
08/29/2019
Christine N.
United States
Love it and use it daily
This is the perfect fix for someone who enjoys fitness, as well as showing off their diamond! I tend to go to the gym right before or after the work, and dont feel comfortable wearing my ring during a workout, or leaving it in a locker. The ring hero is the perfect solution.... it keeps your ring on you at all times, in a protective band on your wrist. The material is great too- I've sweat in it over and over and it doesn't smell! Highly recommended!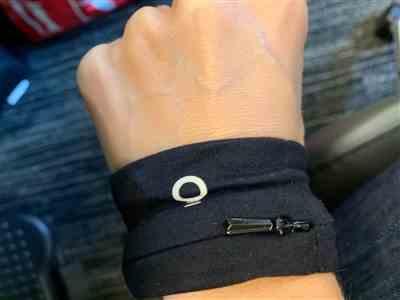 08/27/2019
Erica S.
United States
5 STAR REVIEW
I'm obsessed with my Ring Heros! I have 6 and need more - seriously though. It's so nice to have in every purse, gym bag and my car so that I will never destroy my rings. THIS IS GENIUS LADIES
08/26/2019
Anonymous
United States
Recently Engaged!
RingHero has been the best engagement present (to myself) ever! I use it everyday when I workout! I never have to worry about not having my ring on me at all times and I can still do crazy workouts without worrying about anything happening to my ring! Amazing product!
08/23/2019
Amber G.
United States
Fits great and looks great
I have a really small wrist so was worried it would be too loose, but it fits really well around my wrist and holds both of my rings. Very happy with this. Gives me peace of mind while I'm working out.